Field service
management
Workflow Software
Real-Time manage
your team,
anywhere they are.
FREE
trial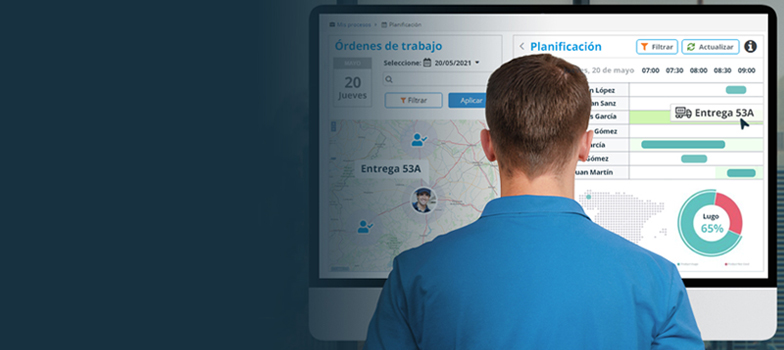 Field Service
Management
Workflow
Software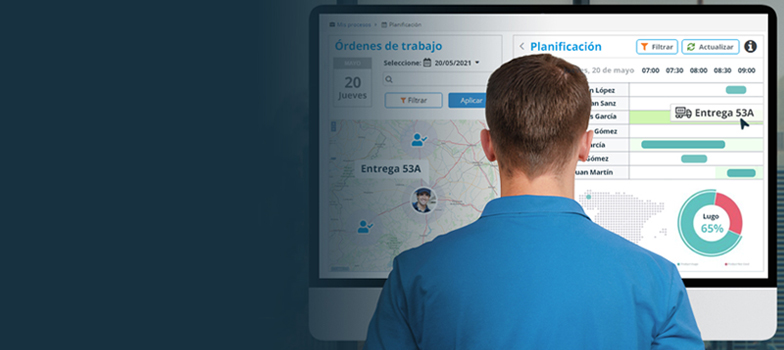 Field Service
Management
Workflow
Software
Easily manage in real-time the work performed by your off-site service technician as if you were there.
How does the
Field Service Management Software works?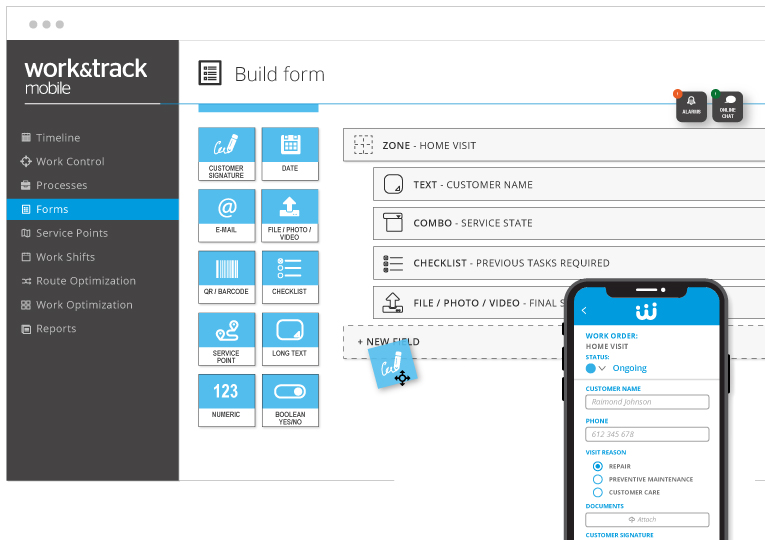 Build your forms in the easiest way
Design your custom work orders and reports. Offer your customer the information they need when they need it in their own smartphone.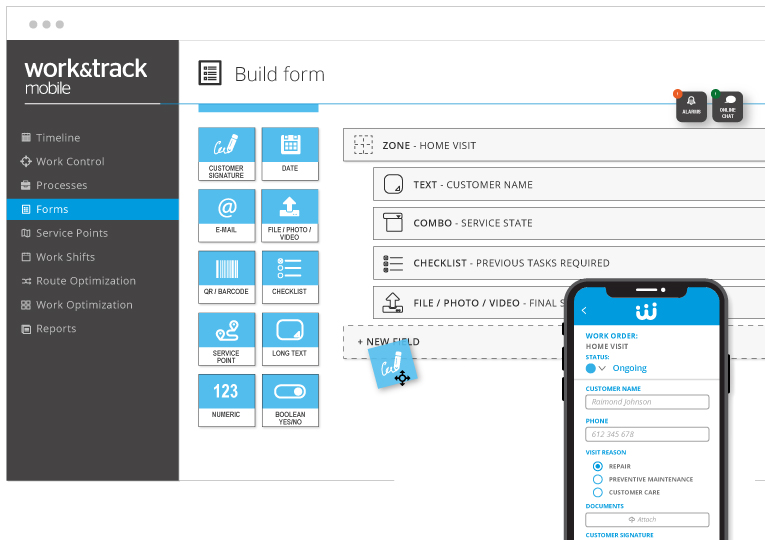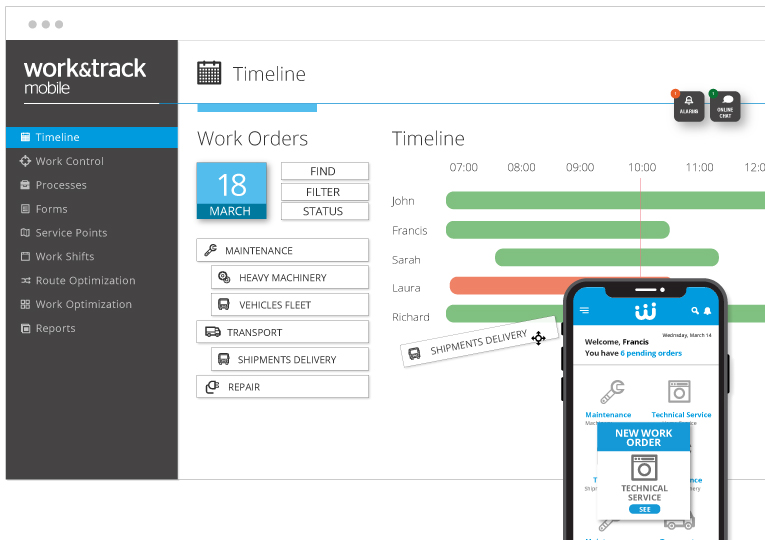 Record the activity · Plan your business daily work. The new orders will be immediately in your technicians' smartphones
Dispatch the orders automatically to your whole team with route optimization, and perform the minor adjustments during the day. Measure work times and use them to obtain the optimal results from your workforce.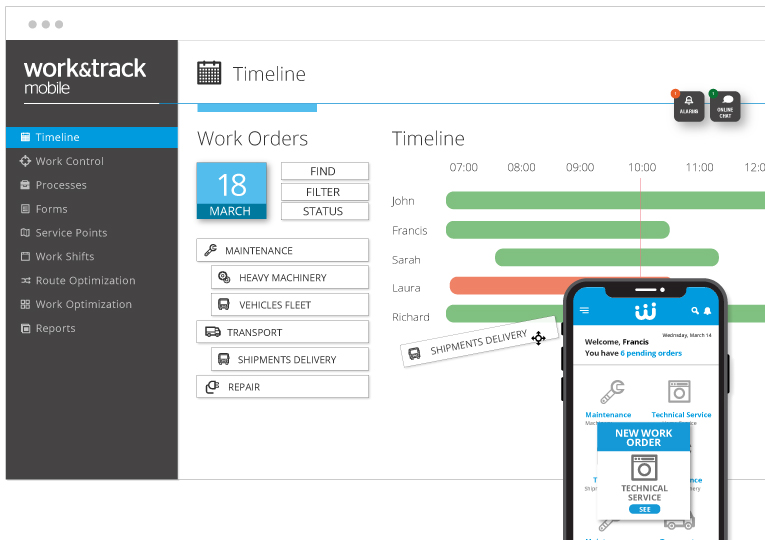 Record your field workers' activity. Track their location and send the nearest person to the new services
Real time field staff location allows you to prevent delays and react immediately to any incidence, minimizing response time and optimizing customer experience.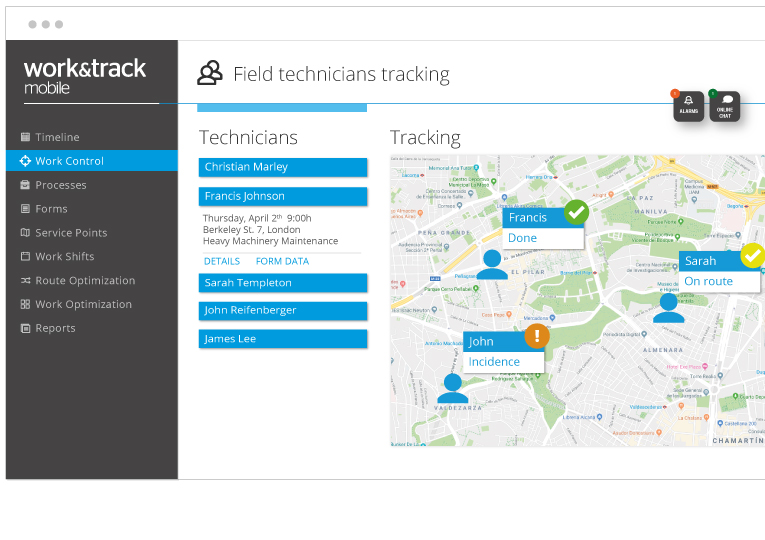 What makes the Field service management software Work&Track Mobile different from other applications and solutions on the market?
The answer is simple! Work&Track Mobile is three systems in one.
Field Service Management
Work&Track covers all the needs required from a Field Service Management Software for the most agile and advanced management of a company's field services. A software that can be easily integrated with any ERP used by the company or its customers, which has a powerful WorkFlow and Form Design tool to effectively adapt to any company, sector, size and business process, with minimum costs, without the need for initial investment and with the possibility of immediate implementation.
Fleet Management
Work&Track is the most comprehensive Field Service Management Software on the market. Together with specific functions for managing the company's field service resources, it provides a unique Fleet Management environment for digitizing tasks related to the vehicle's activity: maintenance, management documentation, refueling and budget control, as well as the possibility of vehicle sensorization (temperature, opening of loading doors, panic button, etc.), digital tachograph management and energy efficiency measures.
Route Optimizer
The Field Service Management platform has its own route optimizer, developed by Work&Track, at no additional cost. Hiring a similar route optimization system separately would mean a considerable increase, but with Work&Track it is already incorporated into the system itself. This optimization tool is perfect for route planning, which will revert in a short period of time to a greater service efficiency, allowing for savings in time and fuel consumption.
The most cost-effective field service platform in the market
The Field Service Management Software that adapts to the needs of your company for more efficient business process management.
ROUTE MANAGEMENT AND OPTIMIZATION
Plan and optimize travels. Evaluate stop times and global travel times. Mark the service points and let the system show the best way to your technicians.
LOCATION AND PRESENCE CONTROL
Register your users. Give permissions and segment the information they receive depending on their responsibilities. Group them based on your organization structure.
System's open web services allow seamless integration of the platform with your company systems: Alfresco, SharePoint, SAP, Spyro ERP, Documentum…
Try it now for FREE

A Field Service Software for 
all sectors
Start today optimizing your field service management with a workflow software.

Here are free articles and resources to grow your business.