What makes the Field Service platform Work&Track Mobile different from other solutions on the market?
The answer is simple, Work&Track Field Service platform is three systems in one:
It is a Fleet Management system.
It is a Field Service Management system.
It is a Route optimizer.
Fleet tracking or Fleet Management systems cannot be said to be innovative. They have been on the market for more than 20 years and most of the products on the market offer a very similar set of functionalities: real-time location, geofences, alarms, speed control, eco-driving, fuel consumption monitoring, etc.
Work&Track goes further than most software packages on the market by including, in addition to the above functions, a unique fleet asset management environment where fleet maintenance tasks, auditing, equipment management and budget control, etc… can be reflected.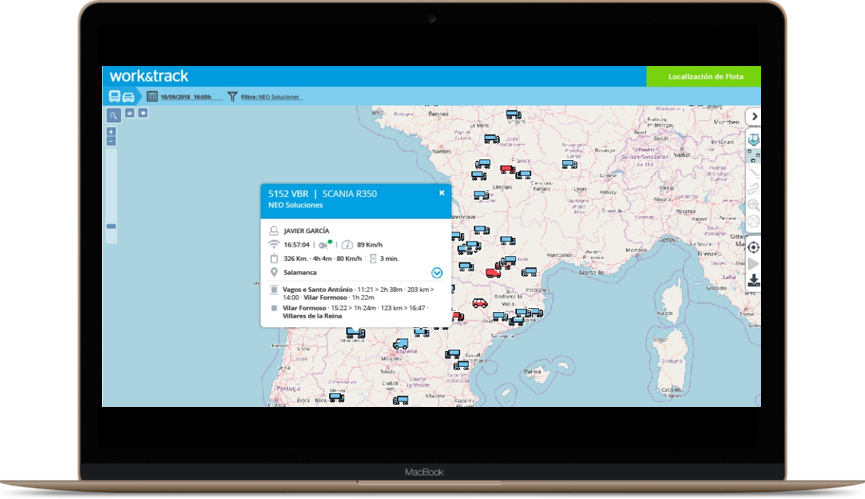 As a Field Service software, Work&Track covers all the requirements defined by Gartner as "Critical Capabilities" (https://www.gartner.com/en/documents/3956172) for this type of system, including, in addition, a powerful WorkFlow and Form design tool that allows the system to be adapted to any business process at a minimum cost (in many cases at no cost).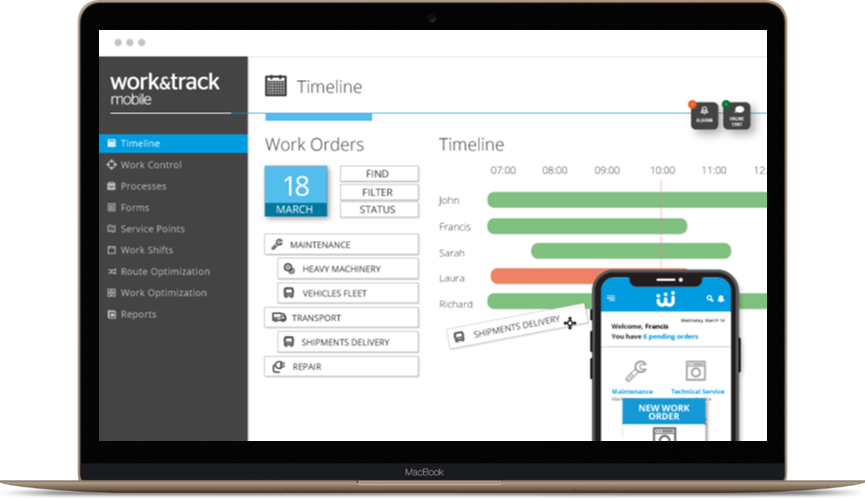 Finally, the Route optimizer is developed entirely by Work&Track. It does not require fees or third-party costs that could make the product more expensive (which, in terms of a route optimization system, could mean higher costs per vehicle, just for optimization, than the cost of WorkTrack).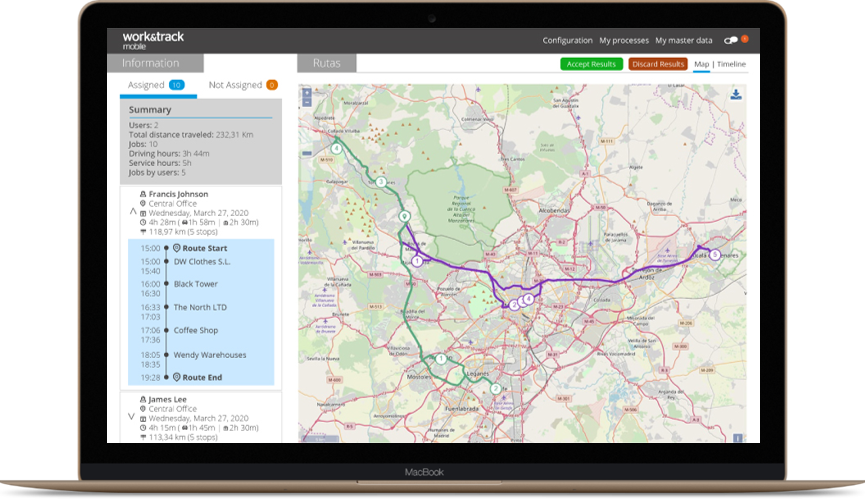 What are the main advantages of Work&Track over other solutions?
Work orders: collect and monitor work orders in one place.
Planning: use planning tools to optimise work routes.
Apps: use apps to help technicians arrive more prepared for service, reduce calls and keep the customer informed.
Digitization: digitize the (usually paper-based) order/work part process.
Efficiency: improve operational efficiency through service traceability.
In short, how is Work&Track different?
It is the only product on the market that integrates a Fleet management system, FSM and Route optimizer in the same system.

It allows the customer to work and manage in an integrated way with their mobile assets (either people or assets/vehicles).

All this at an unbeatable price (especially considering what the three systems would cost separately).
 Welcome to the digital transformation!
> The new way of managing services