With process management technology as their main ally, social-health transport and home care services (HCS) companies have articulated a modern and efficient comprehensive offer of customer services, offering maximum efficiency as an added value in an increasingly competitive market.
To address these realities, Work&Track Mobile has developed a practical and straightforward technological approach to process management for technical services. A robust system capable of digitizing the mobile activity of social-health transport and home care services (HCS).
The business process management software consists of the following tools: Form designer, Process designer, Task planner y GPS Route optimizer.
Form designer: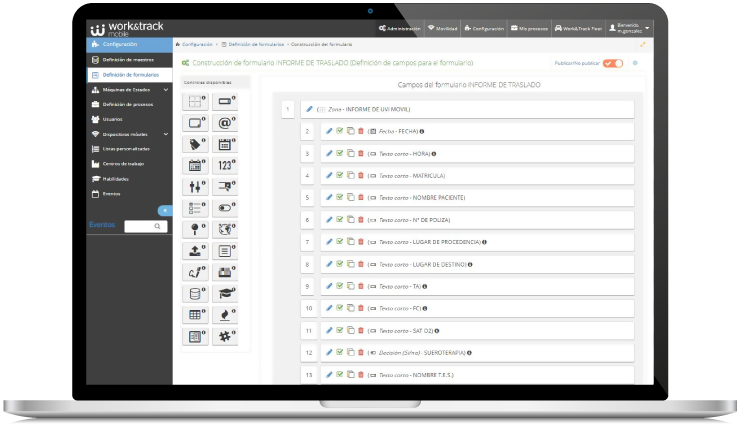 Process designer: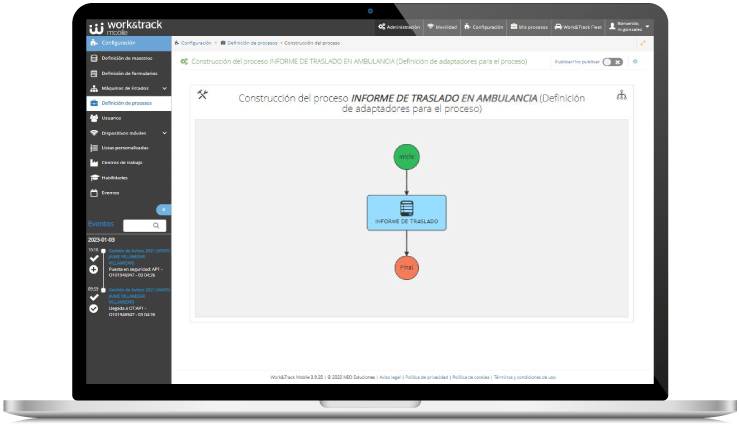 Task planner:

GPS Route optimizer: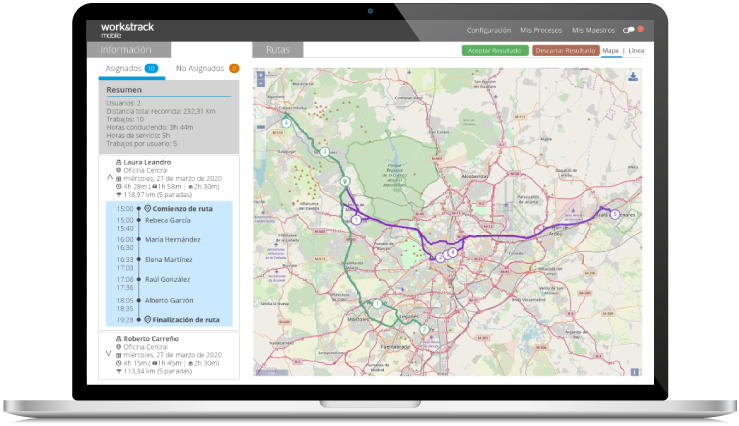 High-capacity technological solutions to support the most advanced home care services.
Advantages of process management in social-health transportation and home care
Reduces paperwork and trips to the office with significant cost savings.
Simplifies the daily management of administrators, coordinators and technicians.
Downloadable and used through each technician's mobile terminal.
Places the patient at the center of the process always keeping him/her informed of the time of arrival.
In case of unplanned service requests, the system replans automatically each task intelligently and assigns according to the type of service and technician best located.
Improves technician productivity by optimizing their routes according to the priority of each service.
Allows to know at all times the status of each task and to plan work shifts.
Integration with other ERP systems.
Possibility of including fleet management system Work&Track Fleet GPS.
How does it work?
Each technician or assistant will know from their own mobile and in real time what they have to do, where, when and how without the need for paper orders.
This system provides the coordinator with a perfect tool to automatically assign tasks according to technicians and services, optimising the best route.
It will allow coordinators to send real-time alerts, notifications, incidents, new service orders to each technician according to their status.  
The mobiles will serve as a support to guide each worker during their service and report the activity in an agile and efficient way, with digital signature available.
Move to efficient process management on a complete mobility platform developed to digitise the field activity of social-health transport and home care services (HCS).
If you have any questions please call us at +41 41 560 00 71 or write us to neo@neo-si.com. Whatever you prefer. We will be happy to give you more information about Work&Track Mobile. Or you can also request an ONLINE DEMO and see it working.
> How to scale technical services effectively?
> Field Service Management Software for patient transport